Acquired Book By: I was selected to be a part of the blog tour for "Emmy Nation: Undercover Suffragette" wherein I received a complimentary copy of "Emmy Nation: Undercover Suffragette" direct from the author L. Davis Munro in exchange for an honest review. I did not receive compensation for my opinions or thoughts shared herein.

I am appreciating reading Feminist Historical Fiction:
I believe part of me was drawn into this sub-focus of historicals long before I cued the titles into my reading queues as I fondly recall seeking out strong female characters where the arc of the stories were not only focused on their lives but focused on how women could succeed in a highly dominated men's world. For a girl who arrived on the scene and grew up in the decades where Working Girl and Baby Boom attempted to make a point about how successful a woman could be if she thought outside the proverbial box and/or wrote her own lifepath out of what was generally expected of her – you could say I was growing up in a potboiler of a new generation of Feminism without realising it!
What I find most inspiring by digging through the historical past via authors such as I am finding now, is this whole new plethora of stories wherein the women who rose out of the shadows to "effectively turn the tides of change" are brought so beautifully to life and within their characters journey we see bits of ourselves; where we can ascertain a focal point in history where women started to say 'No' and started to voice not only their opinions but their rights – to be wholly whole and true to themselves without having to back down due to socioeconomic pressure, familial protocol or society's expectations which held them under a drowning sea of expectations.
I definitely am akin to reading more Feminist Historical Fiction and anxiously await where my next read will generate itself – this is to say, I can find a third author who whets my palette of thirst before either Ms Flynn (the Rebellious Times series) or Ms Munro (Emmy Nation series) complete their next books in sequence of their debuts!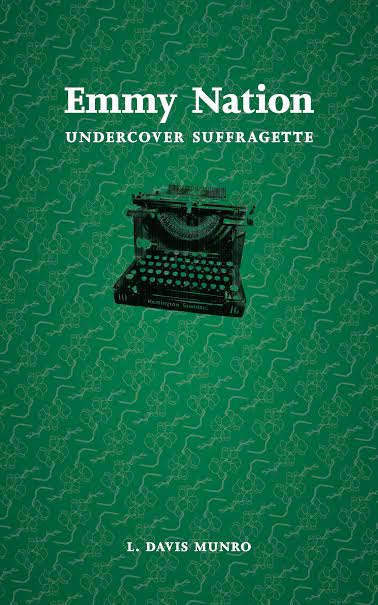 Emmy Nation
Subtitle: Undercover Suffragette
by L. Davis Munro
Source: Author via iRead Book Tours

Being an independent woman in 1913 London is certainly empowering, but Emmy Nation is tired of the inescapable damp seeping through her worn shoes and the hopeless grumblings of her stomach.

When she receives an offer from Scotland Yard to boost her typist income by spying on the Women's Social and Political Union (WSPU), Emmy jumps at the chance. But as she grows closer to the WSPU women the lines begin to blur, and when a painful part of her past resurfaces Emmy begins to question her choices.

How far are you willing to go to secure your equality?
Genres: Feminist Historical Fiction, Historical Fiction, Women's Fiction, Women's Studies
Places to find the book:
ISBN: 9781517529673


Published by Self Published
on 22nd November, 2015
Format: POD | Print On Demand Paperback
Pages: 336
Reading this book contributed to these challenges:
2016 Historical Fiction Reading Challenge