Acquired Book By: I was selected to be a part of the blog tour for the F.I.G. Mysteries series hosted by iRead Book Tours. As I prefer to read serial fiction in order of publication and/or order of the series (if differential), I requested to receive the first novel in order to understand the second in sequence. This is my first review for the tour which is anchoured to my second review highlighting it's sequel on the morrow! I received a complimentary copy of "The Cadence of Gypsies" direct from the author Barbara Casey in exchange for an honest review. I did not receive compensation for my opinions or thoughts shared herein.
Why I enjoy YA Lit esp Mysteries:
My quest to seek out Mysteries under the umbrella of YA or MG Lit began quite innocently through my local libraries – as I would visit different branches of my regional libraries to seek out a better cross-section of Young Adult Literature as well as finding different authors in Middle Grade of whom might not be locally featured. I grew up reading the Nancy Drew and Hardy Boys mysteries right alongside Agatha Christie – so you could say, I've had 'mysteries' on my mind for most of my life! This even extended into the series on television I would develop into a passion of seeing, too, as it began with "Murder She, Wrote" and expanded through the decades to include all the family-based mysteries and/or police procedurals that had unique 'family' casts of quirky characters (everything from Remington Steele to Nash Bridges to The Commish and to more recently Rizzoli & Isles, NCIS (x3), The Mentalist, etc !)
I even had a bit of luck of finding some wicked good contemporaries in this vein of interest such as: the Enola Holmes mysteries by Nancy Springer (one of only two after canon authors for Sherlock Holmes I'll read!); the Keepers of the School series by Andrew Clements; Three Times Lucky by Sheila Turnage (even though I had a few issues with how the dialogue was presented); the entire Series of Unfortunate Events by Lemony Snickett (as I only read the first books before the motion picture release!); The Golden Hour by Maiya Williams; The Sixty-Eight Rooms by Marianne Malone (which is now a series!); Madhattan Mystery by John J. Bonk  and my most beloved mystery whilst growing up myself was The Mixed-Up Files of Mrs. Basil E. Frankweiler!
I even have two of the first novels in the Anthony Horowitz Alex Rider series on my bookshelf! I was sidetracked by watching copious amounts of his historical suspense series Foyle's War by borrowing the BBC series from the library rather than engaging inside this wicked series, which I discovered via it's film adaptation! I wished they had made more to be honest! Similar to the way I felt after The Seekers: The Dark is Rising film adaptation was made based on the novels by Susan Cooper (another series I aim to read!).
There are several stories in this category I haven't yet had the pleasure of reading such as: Ink and Ashes by Valynne E. Maetani, When by Victoria Laurie (this one I started and put down; timing was off to read it), The Whispering Skull by Jonathan Stoud, Secret Letters by Leah Scheier, Colin Fischer by Ashley Edward Miller, the Agency series by Y.S. Lee, The Diviners by Libba Bray, And then Everything Unraveled by Jennifer Sturman, We Were Liars by E. Lockhart,  and The Mystery of the Third Lucretia by Susan Runholt for Young Adult mysteries.
Whilst equally curious about these in Middle Grade: the Theodore Boone series by John Grisham (as I read his legal thrillers as a teenager!), Pie by Sarah Weeks, When You Reach Me & Liar and Spy by Rebecca Stead, the Boxcar Children series by Gertrude Chandler Warner (as somehow I missed these growing up!) as well as others I am forgetting at the moment!
Mysteries to me stimulate my ability to think 'outside the proverbial box' whilst increasing my quantitative analysis of what is or isn't in plain view of being seen, understood or processed. I love curling inside a mystery to see if I can follow in suit of what is happening (both in the mystery itself but also the layering of the character's journey) whilst encouraging my mind to take a 'hiatus' to appreciate the built-up the author has left behind – to go so far to curiously 'predict' the outcome but not necessarily solve the mystery outright, as I want to feel what the character(s) are feeling within that moment their living through 'something' outside the pace of their normal lives!
Of course, I like the lighter side of the genre for YA & MG readers, but sometimes I like seeing how writers can handle harder hitting story-lines without breaching what I would consider 'alright' for the target readership to enjoy reading. Sometimes children like to be challenged by literature but most children (as I was one of these myself!) don't like to step too far afield from where they feel comfortable until they are ready for the adult waters of literature. In other words, there is an invisible balance that must be struck. It's those authors I am keen on seeking out – not only for review or blog tours, but through my own pursuits as a reader and future Mum!
On that note, the YA mysteries I am enjoying currently are the Kitty Hawk Flying Detective series of which I am returning to reading this Autumn, as I fell out of step and sequence with the series. (see my first review) I have also appreciated finding these authors who are giving stimulating suspense & mysteries for this age bracket: the Ian Quicksilver series by Alyson Peterson, the Piercing the Veil series by C.A. Gray, the Cobbogoth series by Hannah L. Clark, Blonde Eskimo by Kristen Hunt, the History Mystery series by Deborah Heal; and for Middle Grade: To Cat a Cat Thief by Sean Cummings and The Contaminated Case of the Cooking Contest by Peter Y. Wong & Pendred E. Noyce.
Thus, when I came across the F.I.G. Mysteries by Barbara Casey, I was most excited to see where she took her own creative muse and how she defined her section of the genre!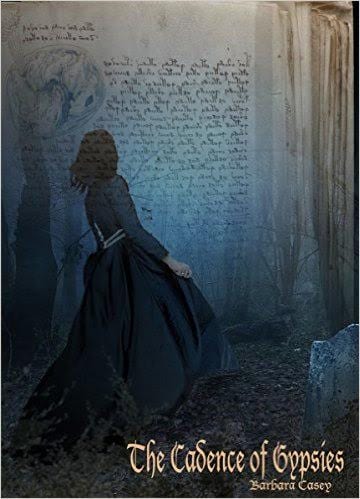 The Cadence of Gypsies

On her 18th birthday Carolina Lovel learned that she was adopted and was given a letter written by her birth mother in an unknown language. After years of research she travels to Italy on a mission to find the truth about her past. Carolina is accompanied by three extremely gifted but mischievous students the FIGs from Wood Rose Orphanage and Academy for Young Women.

In an effort to help their favorite teacher, the FIGs will have to use their special abilities to decipher the Voynich Manuscript, the most mysterious document in the world, and the one thing that is strangely similar to what Carolina was given. Their search will take them into the mystical world of gypsy tradition and magic, more exciting and dangerous than any of them could have imagined.
Places to find the book:
ISBN: 9780982081280


on 15th April, 2011
Pages: 272
Published By: Hungry Goat Press (@HungryGoatPress)

an imprint of Gauthier Publications

NOTE: the info reflects the version I received to review (the Large Print Hardback Edition) whereas the cover-art shown for this book on my review was provided to me by iRead Book Tours reflects the newer version of the book which is the ebook edition released on the 2nd of April, 2015. Blessedly the hardback is still in print, for those of us who read traditionally through print editions!
 Available Formats: Large Print Hardback Edition and Ebook